Livestock in the Internet Pasture
To Search or to Publish livestock, cattle news, research, technical and/or production information.
Key Ad 1000 Purebreed Holsteins Ad ID
ecattle.com™, cowbarn.com™, and cattlebarn™ use the livestock component of Virtual Marketing Systems, Inc. to buy/sell any breed of cattle anywhere in the world. Coming soon will be addition features for the cattle industry. We would love to tell you now but there are cyber rustlers everywhere.:-)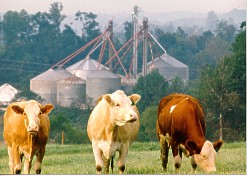 Do we ever have a list of breeds of cows in the Internet pasture of AgEmart2100. Search the list of one of the largest selections of breeds of cattle you are likely to find anywhere.
Buyers/sellers are able to post ads for any breed of cattle from anywhere in the world in a real time classified ad system. Check out the Cattle Breeds available. Please email us if we have not list a particular breed listed.
Enjoy great steaks from
Omaha Steaks
| | |
| --- | --- |
| To transport your Livestock | |
| | |
| --- | --- |
| To find equipment and supplies | |
Within our dynamic database you can also buy/sell all types of equipment for livestock from trailers to hog house slats - in Wheels Online.
| | |
| --- | --- |
| To buy or sell Hay and Straw | |
| | |
| --- | --- |
| To find Veterinary and other Professional Services | |