In 1945, Sylvester Hursey and his wife Daisy, took his own father's favorite method of preparing hickory smoked pork and added a "secret sauce" to establish the Hursey Bar-B-Q tradition. From a homemade pit in their backyard, with neighbors and friends as their first customers, their method was rehearsed and perfected.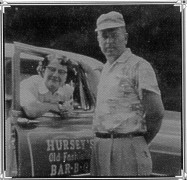 As their business outgrew their home, the Hurseys purchased a cafe on the corner of Piedmont St. in Gibsonville, NC. They had two large pits built on the backside to accommodate the growing demand for their barbecue. In 1949, the first license ever granted by the state of North Carolina to a barbecue wholesaler was framed and hung proudly on the walls of that little cafe.
Charles, the older of the two sons began "learning the business" by helping his parents during summers and after school. His first position was that of car-hop. In 1960, he joined his parents in their business full time - operating the retail cafe and managing the wholesale end at the same time. In mid 1966, Charles took over the Burlington location on Rauhut St., which his father had built and operated since 1957. Charles operates Hursey's Bar-B-Q wholesale located on Hwy 87 N. which is an up-to-date facility that is Federally inspected. In addition to running their own refrigerated trucks, he sells to several major meat distributors.
Charles loves to describe the process of the Hurseys Bar-B-Q business in simple terms. He remembers when his parents were cooking only one ow two hogs a week over hickory coals. The operation now involves smoking over 1200 shoulders per week (not counting hams!)
A genuinely substantiated fact is that Hursey's Pig Pickin' Bar-B-Q took top honors in the North Carolina and South Carolina Bar-B-Q Cook Off held in Washington, D.C., several years ago. The winner was declared by a panel of distinguished judges to have the best tasting Bar-B-Que in the Carolinas! Charles has gained national recognition for his famous Roasted Chicken by winning the National Golden Chicken Award. He has also sold Bar-B-Q to customers in all 50 states and several countries. Hursey's has had the honor to serve 4 U.S. Presidents, several N.C. Governors, Senators, famous athletes and celebrities. We are ready to serve you at our restaurant, cater your favorite event and/or deliver our award wining BAR-B-Q to your door via Internet technology.