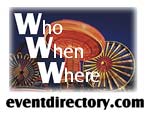 Machinery Shows, auctions, etc. can be featured with www.eventdirectory.com . An excellent Web Tool for getting the information about your events out to potential participates along with either text or graphic directions - Local or International!
Remember, you can buy/sell those classic tractors and equipment that farmed the back forty when farming was a little more carefree. Be sure to select "Classic" in the General Specification section when listing or querying.
Enough Classic Farm Machinery to farm several Sections South East Old Threshers' Reunion
Today farm machinery is high tech with expansive productive output and very efficient cost per acre. With climate control cabs, monitors, GPS systems, and/or communication equipment, the farm machinery of today is the most productive ever, often depending upon technology for that increase rather than raw horsepower.
With no-till planting systems producers in most locations maximize yields and cost per acre/hectare while maintaining minimal environmental impact.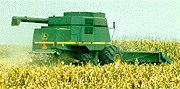 Harvesting equipment allows for the crop to be brought in quickly and under adverse weather conditions. With stripper headers double crop producers can rapidly harvest cereal crops to speed up the planting of double cropped soybeans, etc. Newer harvesting equipment have the options of GPS and yield monitors that help producers manage their agronomic practices more precisely.
With growing world demand for food/fiber the quest for more productive farm equipment will continue unabated.
You may discuss machinery issues on the Farm Machinery Bulletin Board.
To locate the farm machinery you need to cultivate the garden to harvesting the sections please click below.