Ecommerce technology for The Wheat Industry:
List to buy/sell any class of wheat real-time.
Market your value-added wheat products through our online store.
Contact us to quote wheat prices for domestic or export markets.
Purchase wheat flour and other products - Vmarkets.com store.
License leading edge Internet software for your company.
Wheat Industry Womens' Program - NAWG - Syngenta Leadership Training
Would you believe golf tees could be made of wheat? Wheat tees made of wheat gluten are environmentally and lawn mower friendly. Have your name printed on your tees to promote your organization or company.
If you have ever considered exporting your wheat you should read the The Winner's Curse by Wilson and Dahl. (Listing 123)
Ewheat.com software is designed buy/sell wheat by class and intrinsic value characteristics so Millers and Bakers may source from growers those classes of wheat that will allow for maximum mill efficiency while maintaining very high quality standards. Growers may pool together to market a larger contract and possibly increased the premiums. The marketing options are many.
Arrange harvesting through our list of CustomHarvesters.com database and hauling through Backhauling.com.
Publish or search wheat news, research, technical and/or production information through the FoodFiber.com Knowledge Database™.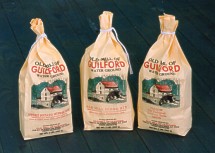 In our shopping system you may purchase premium stone ground flour products. Mixes include whole wheat muffin, buckwheat pancake mix, Scotch shortbread, Heidesand cookie mix and sweet potato muffin to name a few. We are sure you will find a wheat product for your pantry. As a value-added processor please contact us to sell your products through our secure shop online system.
If you are interested in a specific quality of wheat for your home or bakery in 50 lb bags, please contact.
We have available Hard Red Spring, Soft Red Winter, Durum, etc. that can be shipped almost immediately not months from now. The wheat is #1 milling quality that is cleaned, bagged and shipped directly from selected growers assuring you the very best in quality. Dried beans are also available including the edible soybean varieties that are often shipped to Japan.
Wheat input suppliers and value-added processors may list in our vendor directory.
| | |
| --- | --- |
| To transport your product to a new location | Click Here |